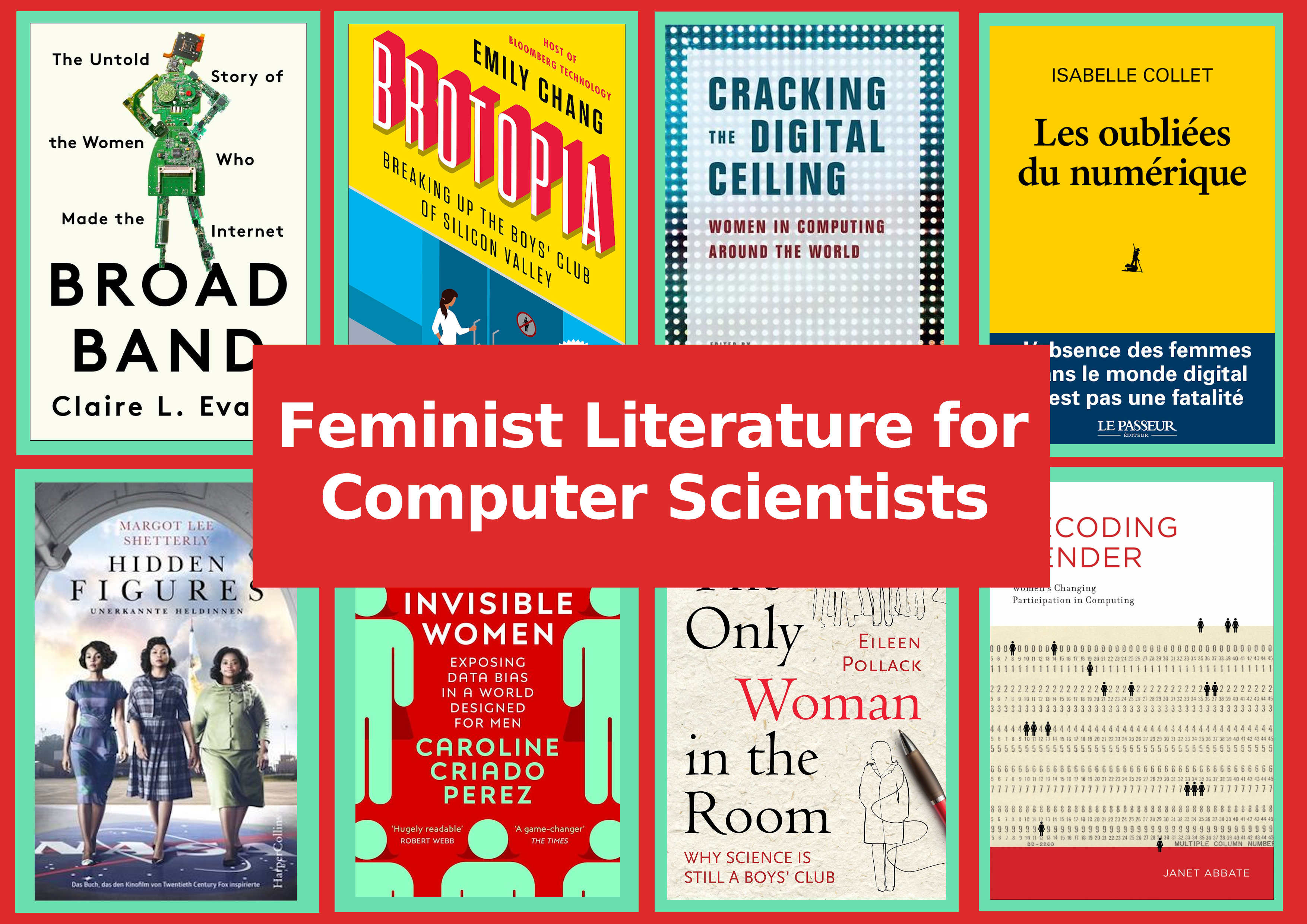 Presentation
We, a group of PhD students and Postdocs, are organizing, with the help of the Gender Equality task team of IRISA/Inria-RBA, a reading circle for young researchers (PhD students and Postdocs) to read books on feminist topics within Computer Science together and share our thoughts and experiences. The goal of this reading circle is to learn collectively and to propose a space for exchange. We don't judge the opinion of others and we respectfully discuss different points of view.
As we are all young researchers, we understand when someone has a busy week and can't join the weekly meeting from time to time. We also summarize the discussed points in a shared wiki.
To include all young researchers, we focus on English books. The language of the discussion can be adapted to the participants of the reading circle (French/English).
History
Two former PhD students, Katharina B. and Solène M., initiated the reading circle in 2020 to learn about gender equality and inequality in science and academia. The idea was to read books on this topic and then discuss and share knowledge and experiences, first between them (to test the concept and because of the health crisis), then between young scientists (PhD students, postdocs, engineers) during weekly video meetings. To date, 7 editions, i.e. 7 books have been read by different groups of young people over the years. The first editions were single-gender (PhD and postdoc only), and then the reading circle was opened to all young scientists.
Goals
Today, the idea of the reading circle is still to learn about gender inequalities in science, their origins, their consequences and possible solutions to combat them. This is done in a safe space, everyone is free to share their opinion and feelings about the book they have read in respect of each other. No meeting is compulsory, everyone does according to their time and availability. At the end of each meeting, a number of pages to be read for the next meeting is proposed.
These meetings give rise to interesting reflections and discussions between the participants on inequalities in science, society and feminism based on the pages read.
Current edition
The 7th edition started recently and a group of 8 scientists meet every week to discuss the book « Inferior » by Angela Saini.
Angela Saini describes how sexism has influenced and still influences scientific research and how science influences social beliefs and gender stereotypes through an argument from authority. This is demonstrated by exposing inconsistencies in research on sex and gender differences and by showing how gender biases have guided the conclusions of sometimes questionable studies.
Public targetted
We would like all participants to be « young » scientists at the beginning of their careers (PhD, post-doctorate or engineering contract) in order to facilitate discussions and so that no one feels intimidated or limited in what they can say.
Contact
Don't hesitate to contact us if you are interested in joining the reading circle via litterature-egalite@inria.fr
Current organizers: Camille and Véronne
Books
Everyone can make suggestions and then we make a poll to decide together which one we read next.
A source of ideas is this list of feminist literature in Computer Science we initiated with the Gender Equality task team.

In the following, we briefly summarize the books we already read.
7th edition: Inferior – Angela Saini
6th edition: The Madame Curie Complex: The Hidden History of Women in Science – Julie Des Jardins
5th edition: Brotopia: Breaking Up the Boys' Club of Silicon Valley – Emily Chang
4th edition: Numérique, compter avec les femmes – Anne-Marie Kermarrec
3rd edition: Gender Gap in Science – A global approach to the gender gap in Mathematical, Computing, and Natural Sciences
After the child book and the personal report we read before, we searched for a more data driven book for the third edition of our reading circle. This is how we found this book on the gender gap in science, freely available here.
It reports on a 3-year international project involving many different scientific organizations. The main goal of the project was to investigate the gender gap in STEM for different research areas, often broken down to different countries/regions and look at it from various angles. For instance, they did a global survey of scientists and present their findings in many diagrams. Furthermore, they evaluated the data of many scientific publication platforms and they also collected a set of different best-practice initiatives. Maybe the main drawback from our point of view was that the field Computer Science was not presented in the publication patterns part – which made big parts of the book not "applicable" to our personal research field. Sometimes, we were a bit overwhelmed by the many diagrams and data. On the positive side, the book includes many links to deepen the reading. Overall, we found the data driven and scientifically proper book we searched for.
2nd edition: The Only Woman in the Room – Why Science is Still a Boys Club – Eileen Pollack
The author Eileen Pollack is one of the first women who graduated in Physics at Yale University in the United States in the 1960ies.
In this book, she writes about her personal experiences before coming to Yale (Part 1), while studying at Yale (Part 2) and when she returns to Yale when writing this book (Part 3).
The narrative of the book is quite personal, which makes it hard to put her experiences in a more general context. It was not always easy for us to connect with the story of a woman in the 1960ies, who additionally describes herself as Jewish and coming from a working class. We took it as an occasion to compare our experiences (which are already quite diverse with participants from different countries and different studies) with the one described in the book. However, we all felt that she still owes us the answer to the question of the book's title: Why is science still a boys club? On the positive side, we thought a lot about 1) the impact of the teachers/professors on our academic way, 2) the pros and cons of being within a minority (with respect to gender/class/religion/skin) and 3) the personal well-being during our studies.
1st edition: The Matilda Effect – Ellie Irving
With a lot of humor, Ellie Irving tells the story of young Matilda and her grandmother Joss, making their incredible journey to make sure that Joss finally receives the honour she deserves as a scientist.
The book does not only make us think about gender, but also about age. It definitely made us laugh hard and stimulated interesting discussions about women in science at the same time. You should not expect the book to give you concrete elements (like numbers or explanations) on the topic, but rather a kind reminder, accessible for everyone, that there is still some work to do to get to gender equality. More than once, we were impressed by the strong girl Matilda, who acted quite differently from what we remember from ourselves at her age. Also, the grandma Joss is a strong character, developing during the book, which gained a lot of our respect at the end of the story.
Last update: 16 May 2023